Our work includes addressing the evolving issues of HIV and aging, disparities in HIV care among people of color, and implementing cost-efficient technology to increase our outreach to community clinics.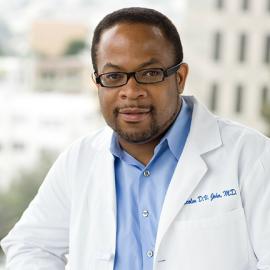 Clinic Director; Medical Provider
Dr. Malcolm John, an infectious disease expert specializing in HIV care, is the director of UCSF 360 Wellness Center and an Associate Clinical Professor of Medicine at UCSF. He works closely with patients to help them meet their health and wellness goals including HIV prevention/treatment.
After earning an MD at Harvard Medical School and a graduate degree in public health at UC Berkeley, Malcolm completed his training in Infectious Diseases at UCSF. Malcolm's passion for caring for those with HIV and ending HIV health disparities led him to UCSF 360 in 2000 where he developed the Men of Color/Black Health programs as well as the HIV & Aging program. He is excited about new efforts to help stop the epidemic including starting UCSF 360's HIV Pre-exposure Prophylaxis (PrEP) program and focusing on sexual wellness for all regardless of HIV status in UCSF 360's Sexual Health Program.
"Working at UCSF 360 is my way of making sure everyone has access to the highest quality care, whether they have HIV or trying to protect themselves while being freely intimate with their partners. Helping patients from all sorts of backgrounds overcome challenges to be healthy and thriving in all aspect of their lives is the most rewarding work I can imagine," says Malcolm.
Malcolm enjoys tinkering with computers, watching old movies and everything sci-fi, spending time with family, cuddling with the family dog Theo, and reminiscing about his glory days as a sabre fencer at Yale University.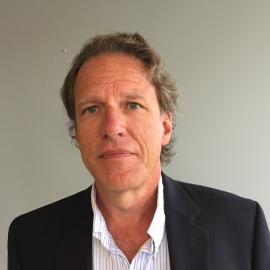 Al Paschke, BSN RN joined UCSF Medical Center as the Nurse Manager for the 360 Wellness Center/ Women's Specialty Health Clinic in March, 2015. Al graduated from St. Olaf College, Northfield Minnesota (yes there is a college called St. Olaf). Al has been a successful leader in the Bay Area Mental Health Community for greater that 25 years working as the Director of Behavioral Health Services at El Camino Hospital in Mountain View, California for 15 years. Al then worked as the Director of Behavioral Services at Community Hospital of the Monterey Peninsula, Monterey, California for 10 years.
Prior to joining UCSF Medical Center, Al partnered with a startup company serving as the Executive Director/Director of Nursing to open a Residential Eating Disorder Treatment Center in the Monterey area. Al brings a wealth of management experience to the 360 Clinic and is dedicated to providing excellent patient care and customer service. "It is exciting to be a manager in an innovative ambulatory care environment that brings multiple health disciplines into a single environment providing primary care, social services, mental health services, nursing, pharmacy, nutritional counseling and other community services and partnerships."
When not at work Al loves to walk/hike or spoil a good walk trying to play golf. (Al has been an avid golfer for 30 years.)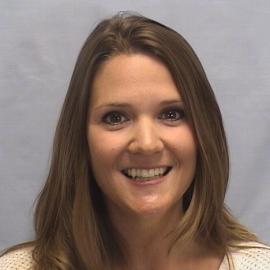 Dr. Bryn Boslett is an infectious disease specialist with an interest in HIV and Hepatitis C care. She is motivated to bring the newest treatments for Hep C to patients of the UCSF 360 Wellness Center, with a goal of 100% elimination of this disease. In addition, Bryn performs acute care within the 360 clinic and also treats a broad range of infectious problems within the UCSF Infectious Diseases Clinic.
Bryn earned an MD from Temple University and completed her Internal Medicine residency at Massachusetts General Hospital before moving to San Francisco for training in Infectious Diseases at UCSF. Bryn's commitment to the HIV community extends to the UCSF School of Medicine, where she is engaged in several educational projects and works to inspire the next generation of physicians towards this important specialty area.
In her free time, Bryn enjoys hiking around the Bay Area, practicing photography with her aging Canon, watching several addictive TV series, and trying new restaurants from the Eater Heatmap.
Dr. Cristina Brickman is extremely excited to join UCSF 360 Wellness Center as a new provider! Originally from Madrid, Spain, Cristina earned her Medical Degree and completed her internal medicine residency at Columbia University. She then pursued fellowship training in Infectious Diseases and obtained a Master's degree in clinical epidemiology at the University of Pennsylvania. While there, she developed an interest in the long-term care of HIV-infected patients and strategies to prevent cancer within this group.
In addition to the 360 Wellness Center, Cristina is also a provider at the UCSF Anal Neoplasia Clinic; a center that specializes in anal cancer prevention, particularly among HIV-infected men and women. Cristina strives to provide compassionate and practical medical care while pursuing clinical research to understand the mechanisms leading to anal cancer development.
During her free time, she enjoys flying many, many hours to visit her parents, sister and family dog (Lucy) back in Madrid.
Dr. Jesse Nussbaum first joined UCSF 360 as a physician trainee in 2009, staying on as an attending provider when he completed his Infectious Diseases fellowship in 2010. Jesse's dedication to caring for patients with HIV dates back to clinical work and research he conducted in Africa during residency training.
Having grown up on the east coast and receiving his degrees from Harvard and Duke, Jesse was drawn to San Francisco, and to UCSF in particular, because he wanted to learn from this community's extensive history treating HIV and pitch in to its ongoing efforts to promote health for all of its members.
Jesse is a physician-scientist; in addition to seeing patients, he works in an immunology laboratory studying how infections interact with our immune system to cause disease. Jesse spends his free time with family traveling to explore his new home state of California.
Dr. Jayant (Jay) Rajan is an infectious disease physician and HIV primary care provider at UCSF 360. After earning his A.B. at Amherst College, Dr. Rajan earned his MD at University of Rochester School of Medicine. His residency in internal medicine and fellowship in infectious diseases were both done at the University of Washington.
In addition to his work as a physician, Dr. Rajan has strong research interests. He is trained as an immunologist and more recently has been pursuing an MA in biostatistics and PhD in epidemiology at UC Berkeley. His research focuses on the interaction of chronic and infectious disease and, in particular, its impact on vulnerable populations both in the United States and in Brazil.
Dr. Robert (Bob) Grant has 30 years of experience with HIV/AIDS research and clinical care. He is a Senior Investigator at the Gladstone Institute of Virology and Immunology and a Professor of Medicine at UCSF. 
Bob was the protocol chair for the iPrEx clinical trial, a multinational study with 11 research sites in six countries on four continents, and the first one to demonstrate the effectiveness of pre-exposure prophylaxis (PrEP) in the prevention of HIV infection. He has served as an advisor to the WHO, UNAIDS, CDC, and Gilead, regarding the prevention use of antiretroviral therapy. 
Bob received his medical degree from UCSF, and his MS in Public Health from UC Berkeley. Currently, he works part time as the Chief Medical Officer for the San Francisco AIDS Foundation.
Roland Zepf is the clinical research nurse at UCSF 360 Wellness Center. His research includes the clinic's HIV and aging project, HIV Pre-exposure Prophylaxis (PrEP) program, and mentoring scholars. He is also earning a doctoral degree in nursing at the School of Nursing at UCSF with the focus on HIV-positive substance-using men who have sex with men.
He earned his registered nursing degree in Zurich, Switzerland and moved to San Francisco in 1998. He worked on the HIV unit at Laguna Honda Hospital where he also became a nurse manager. Ultimately, he was recruited by the UCSF Positive Health Program at San Francisco General Hospital, also known as Ward 86, and worked there as the clinic nurse manager for 7 years.
Roland likes to ride his bicycle (every day), run, and swim.
Amanda Hutton-Parrott, NP DPT
Amanda Hutton Parrott, NP DPT has demonstrated a wide variety of interests, all of which are focused on the human body and its wellbeing. Her post graduate education includes an MFA in dance, from UC Irvine. After a career traveling and performing with Dallas Black Theater, she developed an interest in how to deal with the physical impairments and repetitive movement injuries suffered by dancers in performances. That interest led to a Doctor of Physical Therapy at New York University and work with dancers in Broadway productions. She returned to San Francisco and began her practice there, but discovered that the scope of physical therapy was narrower than her interest in the medical field. Her broadening interests plus volunteer work at Grote Schuur University Medical Center in South Africa, the infectious disease wards, led her to UCSF's MEPN program.
During her academic tenure at UCSF, Amanda created and completed a residency in infectious diseases in Capetown and surrounding townships in South Africa  then graduated with a master in science and an NP license. Since that time, she has worked as an NP at UCSF 360 Wellness Center for eight years. In addition, Amanda is an Associate Professor at UCSF and has conducted research in bone health and Hepatitis C. She also is a clinical consultant for the National Clinician Consultation Center. She approaches her practice by evaluating and treating the entire person, encompassing physical, psychological and spiritual balance. She strongly believes that medicine is a science based on research, but is also an art as it is individualized for each person.  Amanda plans to continue her practice at 360, and to extend her career into global health.
In addition, Amanda spends time with her family, particularly her two young sons, as well as teaching and participating in outdoor sports and dancing.
Dr. Marta Kochanska is an infectious disease physician and HIV primary care provider at UCSF 360 Wellness Center. Dr. Kochanska earned her MD at the University of California, San Francisco School of Medicine. Her residency in internal medicine and fellowship in infectious diseases were both done at University of California, San Francisco.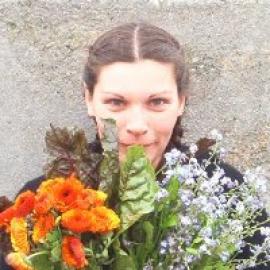 Melody (O'Donnell) Champagne provides medical nutrition therapy for a variety of conditions, including celiac disease, HIV/AIDS, diabetes, hypertension and heart disease.
A native San Franciscan, Champagne received her Bachelor of Science degree in nutrition and dietetics from San Francisco State University. She completed her dietetic internship at UCSF and is a Certified Diabetes Educator.
Away from UCSF, Melody enjoys Giant's games, farmer's markets, bookstores and hiking along the coast with her husband and their dog.
James A. Bourgeois, OD MD
Dr. Bourgeois is Clinical Professor and Vice Chair, Clinical Affaris, Department of Psychiatry, UCSF Medical Center, San Francisco, CA. He completed his residency in psychiatry from Wright State University (1993).
He served as Director of Inpatient and Consultation Mental Health Services at David Grant Medical Center/60th Medical Group, Travis Air Force Base, CA from 1994-1998, Chair of the Psychiatry Department, at Wilford Hall Medical Center/59th Medical Wing, Lackland Air Force Base, TX from 1998-2000 and Director of the Psychosomatic Medicine Service at University of California, Davis Medical Center, Sacramento CA 2000-2009,  Professor and Vice Chair, Education (2009-2011) and Clinical Head of Service, General Psychiatry Division (2010-2012), at Department of Psychiatry and Behavioural Neurosciences, Michael G. DeGroote School of Medicine, Faculty of Health Sciences, McMaster University, Hamilton ON Canada.
His clinical and research interests include psychosomatic medicine (the interface between psychiatry and other medical illnesses) and psychopharmacological treatment of neuropsychiatric illness. He has been active in expanding the use of telemedicine to treat psychiatric illness in primary care medical settings.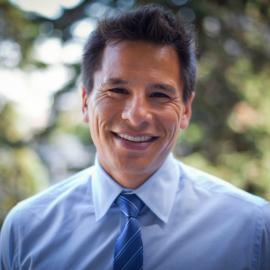 Dr. Erick Hung is the Director of the Adult Psychiatry Residency Training Program, the Director of Curricular Affairs for GME for the UCSF School of Medicine, and a member of the Academy of Medical Educators. He completed his medical school, psychiatry residency, and forensic psychiatry fellowship training at the University of California, San Francisco and joined the faculty at UCSF in 2009.
He has held past leadership positions as the Associate Chief of the Mental Health Service and Director of the Telemental Health Program for the San Francisco VA Medical Center. He actively teaches in the areas of risk assessment, medical education, forensic psychiatry, and ethics. His interests include primary care and mental health integration, the interface between mental health and the legal system, inter-professional collaboration and training, HIV psychiatry, LGBT mental health, and medical education. His educational scholarship interests include competency-based assessment and near-peer learning in the workplace setting.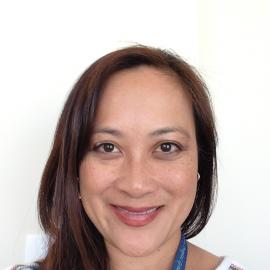 Dr. Cristina Gruta is a clinical pharmacist specializing in the care of HIV-infected patients.  She serves as a clinical pharmacist for 360: The Positive Care Clinic at UCSF.  At 360 UCSF, she strives to optimize HIV and HIV-related pharmacotherapy via direct patient visits as well as provider consults.  Her expertise includes resistance test interpretation, adverse effect management, drug-drug interaction analysis, and adherence support specifically through a motivational interviewing approach.  She also helps to manage pharmacotherapy of HCV co-infection and primary care conditions, including hypertension and diabetes mellitus.
Dr. Gruta completed her PharmD at UCSF and subsequently did post-graduate training at Thomas Jefferson Medical Center (Pharmacy Practice) and at UCSF at San Francisco General Hospital (HIV).  Aside from her work at the 360 clinic, she is a senior clinician at the Clinician Consultation Center at UCSF.  She has consulted on thousands of cases involving the management of HIV and related diseases, blood-borne pathogen exposures, pre-exposure prophylaxis (PrEP), and HCV.  Dr. Gruta is also an assistant clinical professor (WOS) with the UCSF School of Pharmacy.
"I relish the work I do at 360: UCSF because it is my passion to advocate for the care of the underserved population, the very population disproportionately affected with HIV.  I also enjoy working with colleagues who walk an extra mile and work with such heart in helping patients realize their health goals."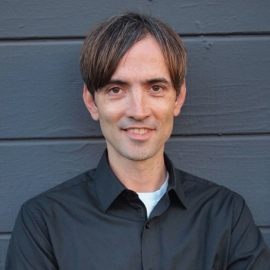 Keith Enders, Licensed Clinical Social Worker (LCSW), has been a Social Worker in the field of Mental Health for more than 20 years. Keith has both a Bachelor's Degree and a Master's Degree in Social Work from the University of Wisconsin, with a clinical emphasis on community mental health. Keith has been with UCSF since 2003, beginning at SF General Hospital. He has also worked at Stanford University Hospital and did contract work with California's Department of Alcohol and Drug Programs (ADP) to provide LGBTQ/HIV best practices trainings to healthcare providers across California. Keith is excited to bring his extensive experience in inpatient psychiatry, outpatient behavioral health, emergency department, and LGBTQ/HIV health to the 360 Wellness Center. 
Keith and his social work colleagues are available in clinic for support, resources, referrals, and outreach. The social work team works closely with the other disciplines of the 360 Wellness Center for patient-centered collaboration and consultation. Usually when someone says "I'm not sure who I should talk to about this…" a good place to begin is with the Social Worker. 
When away from work, Keith likes to garden, either digging up his backyard or taking over his friends' yards. Stop by Keith's office to say hello, learn more about the 360 Social Workers, or to check out some of his potted plants.
Outreach Coordinator; Peer Advocate; PrEP Coordinator
Michael got his start in healthcare by volunteering at age 16 in San Diego for a Centers for Disease Control and Prevention-funded program that focused on youth of color ages 13-24, which transitioned into a full time position as a Health Educator. Through hard work and commitment, Michael moved to Northern California where he continued his dedication in serving the community as an HIV Testing Coordinator and eventually a Public Health Community Specialist for the Santa Clara County Department of Public Health. Michael later moved back down to San Diego to start his journey into education, which led him to San Francisco.
After graduating with a BA in Psychology and Minor in Human Sexuality from San Francisco State University, Michael found a new line of work in the housing crisis San Francisco currently faces. These positions ranged from a Case Manager for families that were formerly homeless, to HOPWA (Housing Opportunity for People With AIDS) Housing Specialist that works with housing subsidies, to Shelter + Care Case Manager that encompasses three areas: substance abuse, mental health, and HIV/AIDS. Michael is very excited about the transition back to working in the HIV field, as this is his passion.
When Michael isn't working, he can be found doing any of the following: cooking (and eating) dishes prepared from scratch, spending time with his partner and dog, and playing videogames from all the generations of systems.
Jennifer Joe is excited to join the UCSF 360 Wellness Center as a Program Coordinator. Jen recently moved back to her native San Francisco, following completion of her Master of Public Health degree at the University of Minnesota. In the Twin Cities, she worked for the Vaccines for Children program at the Minnesota Department of Health and volunteered as a HIV educator with the Minnesota AIDS Project. In the past, Jen worked as a medical assistant at a HIV Primary Care practice in the Castro, after concluding her undergraduate career at UC Berkeley. Her interests include the intersection of healthcare and technology, vaccine management, and health education/promotion.
In her free time, Jen enjoys cheering for Bay Area sports teams, spending time with her family and friends, and rediscovering and exploring new haunts in San Francisco.
Contact Details
Address:
350 Parnassus Ave #908
San Francisco, CA 94143, United States
Phone:
(415) 353-2119